Dental Surgery
Healthy Smiles can bring comfort to your Dental Surgery with sedation.
Root Canal, CROWNS & BRIDGES, Dental Implants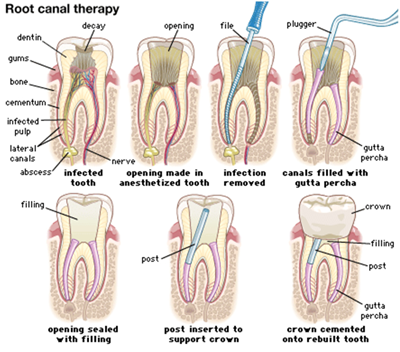 Root
Canal
They are possibly the two most dreaded words in the English language; 'root canal'. I cringed just typing them for crying out loud. The fact of the matter is that root canals have come a long way, and there are a number of methods which can be used to make the process, and the root canal recovery period much easier. If you are looking for the most compassionate, gentle root canals Little Rock provides now is the time to stop the pain for good and call Healthy Smiles today!
While there are many methods used to deaden the area which will undergo the root canal, there are also specific injections and gasses which are used by Healthy Smiles of Little Rock which will make the patient as comfortable and relaxed as possible, prior to, during, and after the procedure. At Healthy Smiles they understand how important proper procedure administration and recovery care are, and they make sure the patient is educated in every way possible. Not to mention the fact that they are there when you need them at any time, should any problems arise. For the most dependable, safest, and most gentle root canals in Little Rock call Healthy Smiles and schedule your root canal today!
It is the goal of Health Smiles Little Rock that you begin to form a trusting relationship with the individual taking care of your dental health needs, and when it comes to root canals this is more vital than ever. Don't live with the pain any longer; allow the caring professionals at Healthy Smiles to conduct the finest, most thorough root canal in the Little Rock area. In no time you will not only experience complete recovery, you will get back to enjoying your life in a fashion which is entirely free of dental pain of any kind, without the ongoing use of dangerous painkillers. Call Healthy Smiles of Little Rock for the best root canals anywhere.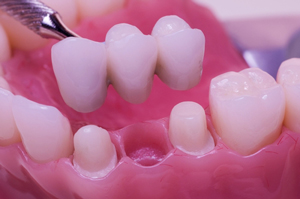 Crowns
and Bridges
Introduction We all need to have some dental work done sometime, and unfortunately some of us must undergo having crowns and bridges done. This can be costly, and many times you will pay a lot of money for sub-standard, shoddy dental work which you seem to keep paying for again and again. if you are looking for the very best crowns and bridges in Little Rock pick up your phone and call Healthy Smiles today!
About Crowns Crowns, also referred to as 'caps' are made from porcelain or other materials and is shaped like the tooth or teeth to be crowned. Crowns are made from a mold of the tooth, which is then filed down in preparation for the crown's placement. While the permanent crowns are being made you will usually be fitted with a temporary one for appearance's sake. The completed crowns are then cemented over the damaged tooth, once the damage has been treated. While it doesn't happen often there may be occasion where the crown will need to be refastened in place if knocked loose or completely dislodged. Healthy Smiles of Little Rock performs the best crown work in the area, so call for our help now!
Information on Bridges Bridges are made from porcelain or another material, and can consist of one or more 'teeth' which are attached to healthy teeth or dental implants implants which surround the empty socket space to be filled. There is typically a bit of wire used, along with a strong adhesive, and the result is as close to permanent as you can get, but any dislocation can be easily dealt with if the bridge itself is retained. You need not worry when you call Healthy Smiles!
Relax...Healthy Smiles is here for you! While having aesthetic improvements done can be costly, time-consuming, and a bit frightening Healthy Smiles has built a solid reputation for providing patients with the finest all-inclusive dental surgery in the area, including the best crowns and bridges Little Rock has available. They will work with you on payments, as well assisting with insurance needs. You will get the best dental work from the most caring and skilled dental professionals in Arkansas, so for the best in crowns and bridges call Healthy Smiles of Little Rock now!
Conclusion Healthy Smiles has made it their mission to restore the appearance and health to your mouth and smile, and crowns and bridges are just one of the many techniques they use to do it. Gone are the embarrassment and the hidden smiles; Healthy Smiles of Little Rock can completely renew your gorgeous grin with the use of crowns and bridges like no other dental health care provider in the area. Some people put off getting their teeth fixed out of fear of the dentist; others simply cannot afford it. Healthy Smiles will not only work with your budget, they will put you completely at ease, relieving you anxiety with a level of care and compassion your will not find anywhere else in Little Rock. For the very best dental work, including crowns and bridges, call Healthy Smiles in Little Rock today!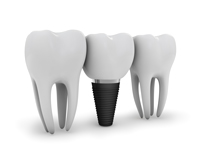 Dental
Implants
Those of us who are a bit older have likely experienced having a tooth or two pulled in our time. We either wound up going through life 'gumming' our food or we invested in dentures or partials, made of all kinds of materials. We glue them in and scrub them up. We soak them and scrub them and glue them again. In Little Rock those days are a thing of the past. If you are looking to get dental implants then Healthy Smiles will do the finest dental implant work in the Little Rock area, so call now!
Implants are far more secure, attractive, dependable, and natural than dentures or partials, and Healthy Smiles of Little Rock has seen to it that the procedure is not only comfortable and convenient, they have made sure your dental implants are affordable as well. Don't live your life out with tubes of glue and cups of blue foamy water; get dental implants in the Little Rock area by calling Healthy Smiles today!
At Healthy Smiles Little Rock you can count on receiving only the finest dental implants in the area, all performed by gentle, compassionate, highly skilled and educated dental professionals who understand not only the importance of a great looking smile, but are also aware of the fear some feel when faced with having dental work done. Call Healthy Smiles today for your dental implants in Little Rock and they will ease all your fears and make you look incredible!
Now is the time to take advantage of this incredible way to have a great smile. Healthy Smiles will conduct professional dental implants in Little Rock in a dependable, competent, and affordable manner, and they will make you feel relaxed and comfortable through the entire process. You will never want to see another professional for dental implants in Little Rock once you experience the work done at Healthy Smiles, so call now!